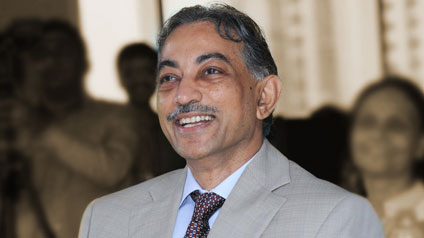 Mr. Vallabh Bhanshali is a well-known thought leader and a businessman. He is a devoted Vipassana meditator and was the former chairman of the Global Vipassana Foundation.
He has served the economy and capital markets of India with great distinction as the Co-founder of ENAM Securities, a reputed investment banking and investment group.
ENAM played a significant role in the development of leading business houses such as Infosys, Reliance, Sterlite, Zee, Inox, Jindal, Thermax, etc. and several Government companies. For ENAM's ability to solve the most complex problems, he came to be known as the 'investment banker of the first and the last resort'.

In 2010, ENAM merged its advisory business with Axis Bank. Since then, he has devoted the bulk of his time to India, in her many facets.
In 2011, he anchored a popular TV show 'Kaun Hai Bharat Bhagya Vidhata' which focussed on Indians who recognised that the only reliable way to make India progress was volunteerism.
Besides being Founder-Director of FLAME University and Co-founder of Indian School of Public Policy, he launched Desh Apnayen Sahayog Foundation focussed on ushering 'ACTIZEN®️ Democracy'. Changing a government through elections is a very poor substitute to making its limbs work as expected of them. ACTIZENS®️ are citizens who volunteer to enable better governance by being Alert, Informed and Active and partner the Government. More than 900 schools in 14 states have partnered it in its initiatives of creating such young ACTIZENS®️ .
He is deeply involved with Bharatiya Jain Sanghatana, India's multi-faceted leading NGO having one of the largest volunteer forces. One of its many programmes, Mulyavardhan, or Experiential Value Education, has been rolled out across all 70,000 government schools of Maharashtra and Goa and is now entering other states. BJS's end-to-end interventions have served more than 2 million COVID-19 affected people across 58 cities and towns of India and saved hundreds of lives through early detection.
He has also co-founded Satya Vigyan Foundation, which co-produced a film, 'History of Yoga', capturing 6,000 years of the tradition, and is now a part of the national heritage. Another epic film on the identity of Bharat, the only surviving ancient, multi-faceted culture is readying for release.
The Foundation has also launched TRUTHtalks, an innovative initiative to inspire people to raise the Truth Quotient in their lives and make our society more happy, trustworthy and productive. The Foundation has conducted more than 30 courses around the world, on Samyak Darshan to make people realise that devoid of Truth Vision, mere Bhakti, rituals or scholarliness can't create a better life.
Mr. Bhanshali has served on several policy making and advisory committees of the Central Government and other regulatory bodies. He serves on the Board of Directors of many reputed companies and of the Reserve Bank of India (West Zone).
He was the top-ranked in CA and LLB. Besides other honours, he was awarded an honorary doctorate by Teerthankar Mahavir University.