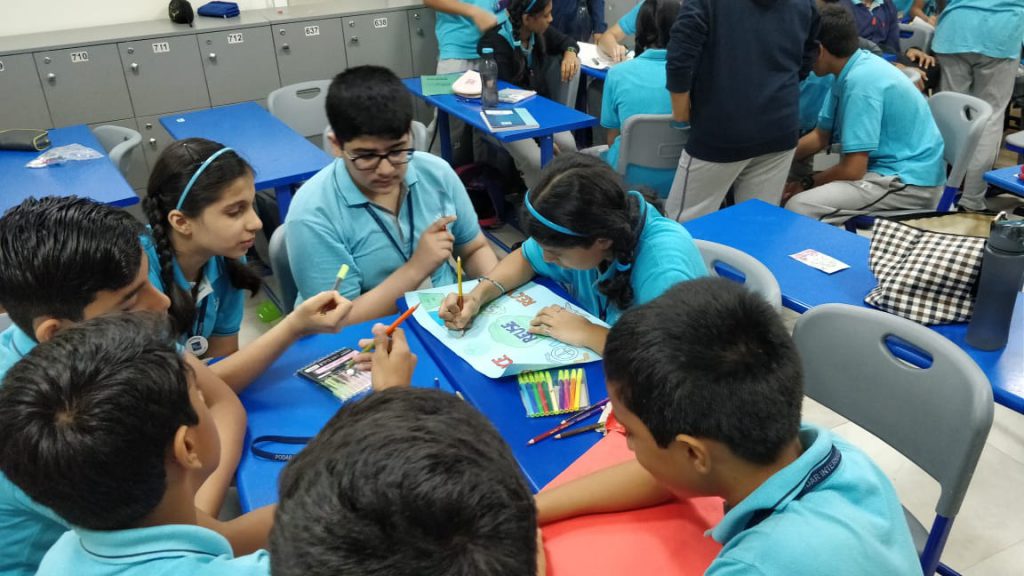 Desh Apnayen's school programmes are offered to schools from 14 states across India, at no cost. We have received some very heartening feedback from principals, teachers, parents and students. National Independent Schools Alliance (NISA), which represents over 64,000 schools in India, has also partnered with the Foundation. In 2021, we began working with 76 government schools of Goa in association with Directorate of Education and SCERT. Please write to info@deshapnayen.org if you have any questions about our work.
CITIZENSHIP EDUCATION PROGRAMMES (DISHA AND ACTIZEN®️ EDUCATION)
Our programmes DISHA (Democracy in Schools Having Action) and ACTIZEN®️  Education are designed to invigorate both the teachers and the students and foster critical thinking and motivation to learn citizenship education experientially.
We have a content bank of several informative and enlightening videos and other kinds of material to deepen the students' learning. Our content facilitates detailed step-by-step teaching and learning, based on pedagogical theories like Bloom's Taxonomy and Howard Gardner Multiple Intelligences Theory. These are woven into the lesson plans to provide integrated and extended learning on each topic. The lesson plans are aligned closely with the curriculum laid down by the State, I.C.S.E. and C.B.S.E. boards. The role-plays, worksheets, games, activities, simulations, etc. make it easy for the students to get and remain excited about Citizenship Education for life.
Schools have the flexibility to use these resources and share them with their students at their discretion.
To access the DISHA content, click

here

.
To access the ACTIZEN®️ Education content, click

here

.
The ACTIZEN®️ contest is designed to act as a catalyst that kickstarts students' imaginations on how to solve the big civic issues, and sparks community-level action to tackle these issues head-on.  
Over 11,000 students registered for the two-stage contest in 2019. In Stage 1, participants took part in a Multiple Choice Quiz and engaged in community service activities that ranged from clean-up drives to planting trees, from making cloth bags to putting up educational posters in their neighbourhood. In Stage 2, schools formed teams of 4 to 6 students who went on to identify a local problem and come up with a solution to address it. 
Students from the top ten schools and their ACTIZEN®️ mentor teachers pitched their ideas for solving the civic issues to a Grand Jury. The jury members were Mr. Ashok Bhansali, philanthropist, Ms. Ashwiny Iyer Tiwari, filmmaker, Mr. Cyrus Guzder, environmentalist and heritage conservationist, Mr. Kiran Khalap, brand consultant and Ms. Mini Menon, journalist and author.  
Know more at https://actizen.in
DESH APNAYEN ACTIZENS'®️ CLUB
The ACTIZENS'®️ Club gives students and teachers a chance to:
Take part in innovative activities based on a thematic calendar, aligned to civic and social issues

Participate in contests and special events on certain days of national and international importance

Experience the power of volunteering for the improvement of their community

Feel a sense of ownership and responsibility towards their country

Expand their knowledge base on pertinent social and global issues

Display leadership skills, be it as the President, the Secretary or a member of the Club, or as the 'Voice of Desh Apnayen' in the school

Get greater recognition and rewards during the grand awards ceremony

Be featured on our digital platforms and outreach efforts with media publications, print and online

Access training, workshops and engaging resources

Have a dedicated Engagement Officer from Desh Apnayen for the school
Please write to info@deshapnayen.org if you would like us to take you through the process of starting the Club in your school over a phone call.